Episodes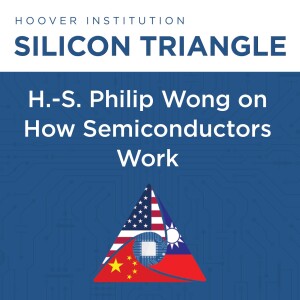 Thursday Sep 14, 2023
Thursday Sep 14, 2023
To read "Implications of Technology Trends in the Semiconductor Industry" by H.-S. Philip Wong and Jim Plummer, click the following link:
https://www.hoover.org/sites/default/files/research/docs/SiliconTriangle_Chapter2_230828.pdf
To learn more, go to https://www.hoover.org/silicon-triangle
H.-S. Philip Wong discusses the semiconductor supply chain, explaining the difference between chip design vs manufacturing and leading edge vs legacy chips. Wong notes the semiconductor field requires global collaboration on research to advance and is optimistic about future innovation post "Moore's Law" as societal needs will drive new breakthroughs.
Kharis Templeman is a research fellow at the Hoover Institution and program manager of the Hoover Project on Taiwan in the Indo-Pacific.
H.-S. Philip Wong is a professor of electrical engineering and the Willard R. and Inez Kerr Bell professor in the Stanford University School of Engineering, where he is the founding faculty director of its SystemX Alliance and director of the Stanford Nanofabrication Facility. From 2018 to 2020 he was vice president for corporate research at TSMC, where he remains as chief scientist in an advisory role.